CDI HELPS 2 COMMUNITIES, 466 FAMILIES
GO CO-OP IN SINGLE TRANSACTION

CDI HELPS 2 COMMUNITIES, 466 FAMILIES GO CO-OP IN SINGLE TRANSACTION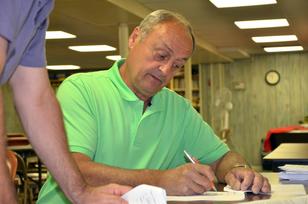 Carver, MA, June 25, 2012: The residents' associations of 2 manufactured housing communities comprised of a combined total of 466 homes in Carver, Massachusetts have purchased their communities, securing for themselves enduring control of the land their homes occupy. Cranberry Village Residents Association and the Pine Tree Village Residents Association closed in a 2 party transaction Friday afternoon after working together for 5 months toward the purchase. Notably, the purchase was without an increase in rent to the residents. With the total transaction exceeding $23 million, it is the largest single transaction in homes and dollars closed within the ROC USA™ network.
Cranberry Village, a 55+ community, and Pine Tree Village, a family community, were developed and operated by the Piper family since the 1970's. After the Pipers signed an agreement last December to sell the properties to a NYSE-listed Investment Trust, the communities' residents banded together to purchase under a right of refusal law in Massachusetts. They quickly contacted the Cooperative Development Institute (CDI), which served as their technical assistant through the process of establishing right of first refusal, incorporation, negotiations, due diligence, financing and closing. CDI, a member of the ROC USA Network, will provide technical assistance for the life of their mortgage loan.
"This is a place where we help each other — it's a close-knit neighborhood that got closer by forming the co-op and going through the purchase process," said David Tessier, president of the Cranberry Residents Association. "Now most people are concentrating on the rent stabilizing. We were worried, because in today's economy, some people are living on very slim fixed budgets and they can't afford the rent going up every year."
As quoted in the Patriot Ledger, Pine Tree board member Larry Erikson said: "It's like a new democracy. The members decide, what do we want to do with surplus? We could reduce the rents or do tree work and fix potholes."
ROC USA (
www.rocusa.org
) is a non-profit organization with a national network of eight organizations such as CDI and a national financing source for co-ops. The ROC USA process solves the two basic barriers to resident ownership – access to expert technical assistance and financing to help homeowners become buyers when their community is for sale. Financing for the project was provided by ROC USA® Capital, a 501c3 national community development financial institution that is certified by the Department of Treasury's CDFI Fund.
With these communities CDI's New England Resident Owned Communities initiative (NEROC) has assisted 7 conversions in 20 months in a territory that covers all the New England states except New Hampshire. CDI (www.cdi.coop), a 501c3 cooperative development center based in Shelburne Falls, MA is funded in part through a USDA Rural Development grant.
For further information contact:

CDI Helps 2 Communities, 466 Families Go Co-op