It's a big year for cooperatives at the annual Common Ground Country Fair in Unity, Maine. CDI staff and partners are presenting in a variety of workshops, including:
Converting a Business to Worker Ownership
Friday, September 22, 5pm-6pm in the Social and Political Action Speakers Tent
Rob Brown, CDI's Director of Business Ownership Solutions (BOS) will discuss resources, financing, and successful examples of worker ownership conversions.
New American Farmer Cooperatives
Saturday, September 23, 2pm-3pm in the Social and Political Action Speakers Tent
Mohamed Abukar of the New Roots Cooperative Farm will lead a discussion on the work of New American cooperative farms and the Somali Bantu Community Association. Participants will be able to build connections to these farms, learn how they can support them, and learn about the basics of starting a cooperative farm.
Keynote address by Jonathan Rosenthal
Sunday, September 24, 11am–noon on the Main Green
As Executive Director of the New Economy Coalition, Jonathan stewards a network of more than 190 organizations from across the US and Canada who are at the forefront of creating new economies using strategies like cooperatives and public ownership. CDI is a proud member of the NEC.
This Cooperative Maine Business Alliance poster runs down where you can hear from Maine's cooperative leaders. For the full Common Ground Country Fair schedule, visit the Maine Organic Farmers and Gardeners Association website.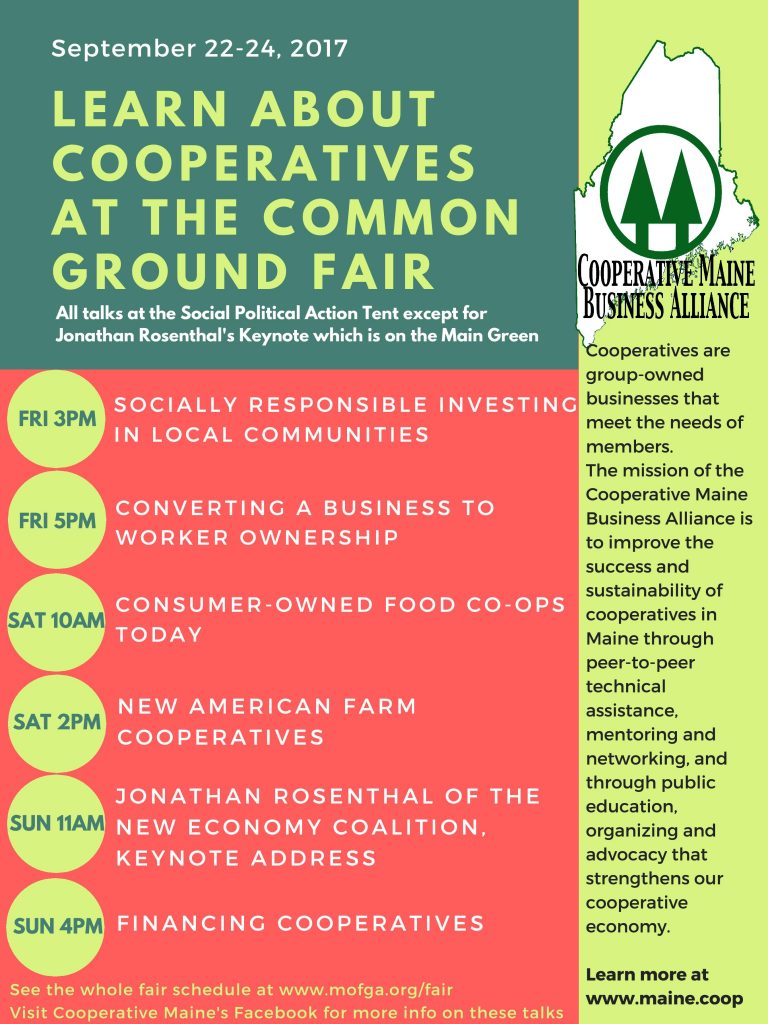 View and download a PDF of the flier by clicking here.
CDI & Partners at This Year's Common Ground Fair