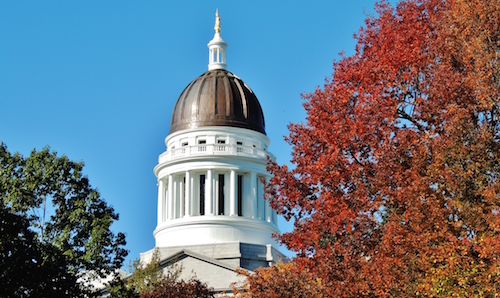 By Rob Brown, Director of Business Ownership Solutions
Our cooperatives, much like our government, exist to accomplish together what we can't accomplish on our own. As workers, consumers, residents, producers, and independent businesses, members of cooperatives work hard to build enterprises that meet needs that the private and public sector have ignored.
Because we put so much effort into sustaining and building our individual co-ops, it's easy to overlook the power that all cooperatives in Maine could have if they worked together and spoke with one voice.  That's not to say that all the interests of every co-op are fully aligned, but what if we all settled on and advocated for a few simple ideas that would create greater resources for and awareness of existing co-ops and incentivized and supported the creation of new co-ops?
Laws are changed or created through advocacy, and advocacy takes one of two forms: money power or people power.  As grassroots, member-owned enterprises, we may not have the money power that the corporate interests do, but we have far greater people power than we realize, greater than almost any other advocacy group in Maine.
If we want to be a real movement, we need to think and act like a movement, and that means organizing strategic, focused advocacy campaigns to strengthen Maine's cooperative economy.  There are thousands upon thousands of cooperative members that live and work in most legislative districts. If we get organized, we have the people power to sway a sizable majority of state lawmakers to support our agenda.  If we spoke with one voice, it could easily be the loudest voice in Augusta.
This is easier than it sounds
For example, state government spends hundreds of millions of dollars per year supporting economic development. Many of these programs are targeted toward an array of specific sectors, regions, populations and business types. What if cooperative members across the state got behind legislation to redirect just a small portion of those resources to support the development of new and existing cooperatives?
Or what if cooperatives in Maine's food system organized themselves and their fellow cooperators to demand our governments, schools, colleges and universities direct more of their food purchasing dollars toward Maine farmers and food producers? A stronger, more resilient local food system is the fertile soil in which more cooperative food businesses and networks can grow.
As another example, 692,000 Mainers – over half the population, and roughly two-thirds of registered voters – are members of credit unions. Imagine if those members organized themselves and their fellow cooperators statewide to advocate for the removal of restrictions on our credit unions' ability to invest in small businesses in our communities, restrictions that were put in place by bank lobbyists to distort the market in their favor.
Successful organizing campaigns start with accurate contact lists, and we know who we are.  We have devoted boards of directors who know how to communicate with members in ways that get their attention. And, as we all know, many of our members do not shy away from voicing their opinions on issues that matter to them.
Where do we begin?
Given the low level of awareness about cooperatives and their benefits among elected officials, an effective campaign needs to focus on easy-to-understand solutions to commonly understood challenges.
For example, many lawmakers are looking for solutions to problems like preserving and creating jobs, improving access to affordable housing, improving access to locally grown food, helping low-income families support themselves and improve their economic security, and preserving Maine's farms and rural businesses as owners age out.
Right now, there is legislation being drafted that would address challenges like these through cooperative development. The details are still being worked out, but, over the next few months, cooperatives and their allies can help advance legislation that would:
Incentivize the sale of business assets to cooperative or employee-owned enterprises, and reduce the cost of financing the sale.

This legislation would help create many more cooperatives in Maine by supporting the conversion of businesses, farms, manufactured home parks and apartment buildings.

Create a Maine Employee Ownership Center.

 A Center would expand the education, training and technical assistance resources available to workers to develop new cooperatives or pursue the successful conversion of existing businesses.

Create a publicly funded match for Family Development Accounts (FDAs).

FDAs are special savings accounts for low-moderate income people to save money for specific purposes, like buying a home or making home repairs, pursuing education, buying a car, starting a small business, or covering family emergencies.  Starting a FDA gives the beneficiary access to financial supports and services, like tax preparation services and financial literacy or home-buying classes. Historically, money saved in a FDA was matched with a mix of state and federal dollars, but the Lepage and Trump administrations both eliminated this wealth-building, poverty-reducing support, making FDAs far less effective.  While matched savings would benefit many low-income families in many different ways, it would be particularly helpful to members in Resident Owned Cooperatives saving to buy a new manufactured home, members of farming co-ops saving to buy a new piece of equipment or pooling their savings to buy land, or workers saving to buy a share in a worker co-op.
One of the goals of the Cooperative Maine Business Alliance is to help cooperatives get organized and make our voice heard.  As part of that, we want to facilitate a conversation about what a comprehensive agenda should look like and distill those ideas into practical, winnable campaigns.  While that will take some time, we have an opportunity to exercise our voice now, in this legislative session.
Please let us know if you're willing to help organize your fellow co-op members to reach out to your local legislators on these and other bills to strengthen and expand Maine's cooperative economy.
Co-op Power: Making our voice heard in Augusta!