CDI collaborates with many other groups to work toward our vision of a cooperative economy in the Northeast. Oftentimes our projects will require a team, such as the development of the Island Employee Cooperative, which included the Independent Retailers Shared Services Cooperative, Cooperative Fund of New England, and Coastal Enterprises, Inc. to bring to fruition. But we also work with others to build more educational resources and infrastructure for the cooperative movement as a whole. Below are a few examples of this work.
In 2014, CDI deepened its collaboration with Cooperative Fermentation, a new organization started by Jonah Fertig, founder of Local Sprouts Cooperative and newest staff member of CDI. We participated in planning and presenting at the Cooperative Farm Design Day on November 15 and are a sponsor of the Cooperative Design Lab taking place in early 2015.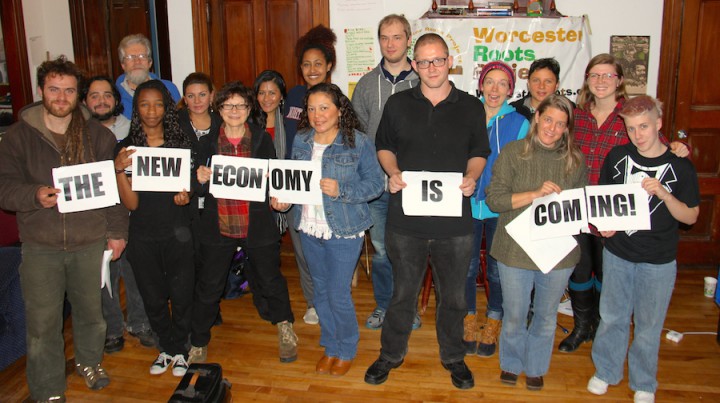 And in other co-op academy news, CDI also sponsored the 2014 Worcester Roots Co-op Academy.
Earlier in 2014, we saw the release of the free Cooperative Farming guidebook, published by The Greenhorns. CDI's Lynda Brushett was a contributing author to this popular and useful book. Lynda has also been working on research into the best practices for peer mentoring among food co-ops with the Food Co-op Initiative, CDS Consulting Co-op, and others.
In collaboration with the ICA Group and CFNE, we also began to plan a training that will take place in March 2015 for the Massachusetts Association of Community Development Corporations on worker co-ops and how CDCs can use them in their development efforts.
CDI is eager to partner on projects, research, and education that build economic democracy and opportunity. In the spirit of cooperation, we can do more together! If you're interested in collaborating, please get in touch. We'd love to hear from you.
Collaborating to Expand the Cooperative Movement