For Immediate Release
April 13, 2018
Heritage Association, Inc.
Warren Manufactured Home Community Homeowners Purchased Their Neighborhood, Ready to 'Flourish'
Contacts:       
Dave Adams, President, Heritage Association, (413) 436-8245
Andy Danforth, Director, NEROC Program, CDI (401) 439-9795
Paul Bradley, President, ROC USA, LLC (603) 513-2818
WARREN, Mass. — After learning about what it means to be a resident-owned-community, there wasn't a single homeowner from the Heritage Village Association at the informational meeting against the idea. "We all stood up and clapped," said Dennis Morel, secretary for the democratically elected Board of Directors. "Everyone was pleased." Residents of the 91-home community purchased their neighborhood Thursday. The move means that residents will be able to control their own destiny.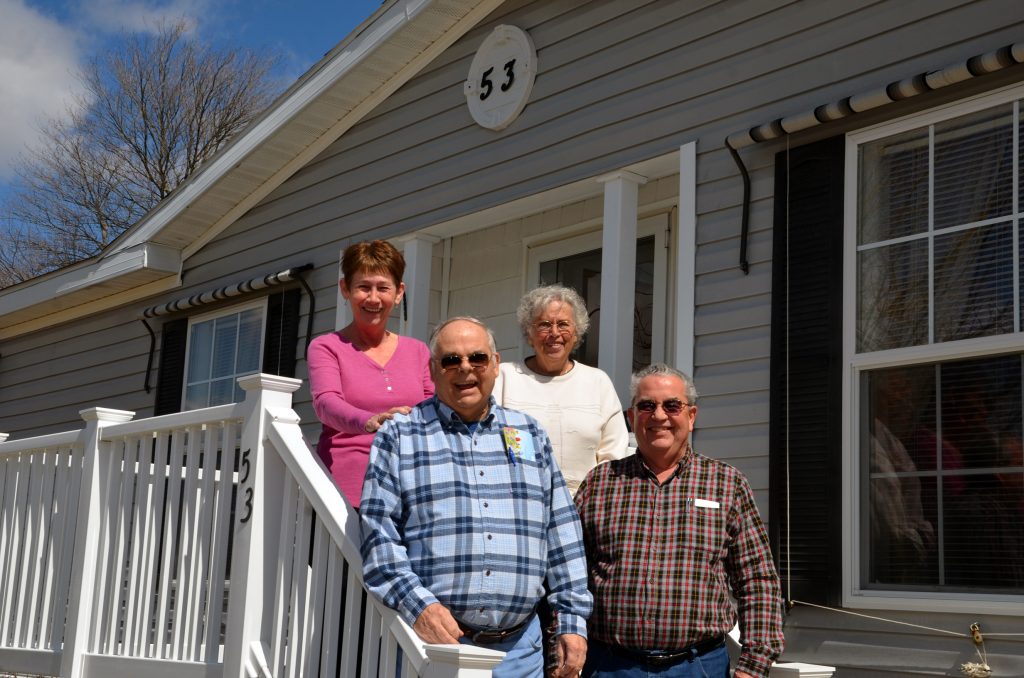 Members of the Heritage Association, Inc. Board of Directors. In the back, left to right: Gail Lavalle, treasurer, and Susan Johnson, board member. In the front: Dennis Morel, secretary, and Herb Kingston, board member. (Mike Bullard/ROC USA Staff)
"Now everyone will have a say in what's going on," Board member Herb Kingston said. "That's a big thing." "People are very, very happy that it's changing," agreed Dave Adams, who served as the president through the transition.
There's already been a rise in neighbors asking about volunteer opportunities in the community due to the excitement of owning the neighborhood, according to Gail Lavalle, treasurer for the Board. "We're proud of where we live," she said.
Adams said nearly twice as many residents are meetings now. "It's going to flourish in here," he said. "A little bit of good work goes a long way." For nearly two decades, Adams lived in a resident-owned-community in Florida before moving to Heritage two years ago to be closer to family. "When people there saw something that needed to be fixed, they didn't say, 'You need to do this'," he said. "They asked, 'What can we do to help you?' I can see that happening here, too."
Residents bought the neighborhood for $840,000. Though unified under one name now, two groups make up the co-op: the Heritage Village Association, an all ages community, and Hillside Estates, a 55 and older community.
There are vacant sites in each section with utilities already laid and ready for homes to be placed. Interest is already peaking in those lots. A new homeowner is expected to move in June, Lavallee said.
Board Members said they don't have any plans to raise rents in the near future. One of the first projects they plan to tackle is fixing the pump for their water system. The community's website, will also be a boon for the neighborhood by showing people interested in moving in what life is like here, Adams said.
Cooperative Development Institute will offer Board members coaching for the duration of their mortgage — at least 10 years. This was the 20th cooperative in Massachusetts and 39th in New England that CDI works with.
"Taking this step they finally control the land under their homes and the quality of services they receive," said Andrew Danforth, director of CDI's New England Resident Owned Communities (NEROC) Program. "We look forward to working with them for decades to come."
Homeowners are able to buy one low-cost Member interest in these democratic ROCs. An elected Board of Directors acts on day-to-day issues. Members vote on larger matters, such as the annual budget, bylaws, and community rules.
Assisting resident ownership of manufactured home parks is a priority for several national non-profit organizations that formed ROC USA® in 2008 in order to make resident-ownership a viable strategy nationwide to preserve affordable housing. ROC USA is a non-profit organization with a national network of nine organizations such as CDI and a national financing source, ROC USA Capital, for resident-owned communities.
"This approach helps them overcome the two hurdles to resident ownership," said Paul Bradley, ROC USA's founding president. "We give residents 1) access to expert technical assistance and 2) financing to help homeowners purchase their community when it's for sale."  ROC USA is sponsored by NeighborWorks® America, Capital Impact Partners, Prosperity Now, and the New Hampshire Community Loan Fund.
ROC USA Network affiliates such as CDI have helped 218 communities preserve nearly 14,000 homes in 15 states since 1984. www.rocusa.org Cooperative Development Institute is a regional cooperative development center, founded in 1994. It has assisted dozens of new and existing cooperatives throughout New England and New York. It is involved in cooperative housing as well as agriculture, consumer, worker-owner, energy, and fishing cooperatives. www.cdi.coop.
###
Heritage Residents purchased their neighborhood