CDI to the United Nations: Sustainable Development through Cooperative Development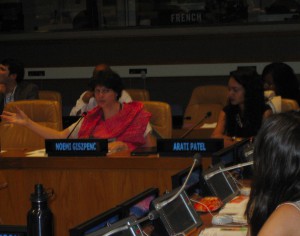 CDI Executive Director Noemi Giszpenc was invited to present at the U.N. in New York as part of a panel on the "Sustainable Development Goals" and how to engage citizen participation in implementing them. The basic point of the Sustainable Development Goals is that all people should be able to live their lives in dignity, peace and freedom to be able to reach their potential. When she spoke, Noemi suggested that in order to get to the goal of freedom, we should use cooperatives, that rely on and build up people's autonomy, self-determination and self-responsibility.
This was a major event, and we were thrilled to be involved and to bring the message of cooperation to a world audience. Read our entire message and a slideshow of the event here.
CDI Wins "People's Choice Award" for Transitions to Worker Ownership
Rob Brown, director of Business Ownership Solutions at CDI, was among ten finalists chosen to do short presentations on their innovative economic and community development ideas at the Friends of Midcoast Maine annual meeting. His presentation showed how converting existing Maine businesses to worker owned cooperatives can make it easier for current business owners to retire, help workers build wealth through ownership, and strengthen economic and community development. The audience got the final say, and chose Brown for the "People's Choice Award."
CDI to Participate in Succession Planning Webinar: Opportunities and Benefits of Employee Ownership
Project Equity and the National Center for Employee Ownership offer this upcoming webinar to share essential information on important succession planning options available to business owners through employee ownership. They will review the main features of employee stock ownership plans (ESOPs) and worker owned cooperatives, and will discuss the benefits and distinctions of each, including resources for how ​to learn more, and how to get support. Guest speakers include Timothy Garbinsky, outreach coordinator at the National Center for Employee Ownership (NCEO), Rob Brown, the Director of Cooperative Development Institute's Business Ownership Solutions (BOS) program, and Alison Lingane, co-founder of Project Equity.
More Resources from CDI for the Cooperative Movement
The Working World recently said on twitter that CDI is "quickly becoming one of our favorite sources" for cooperative information. We appreciate the shout out! Here's some of the recent materials that we've put out:
We also want to work with cooperative experts to build more resources like these for the cooperative movement. If you're interested in writing a guest post for our blog, please be in touch!
Invitation to Participate in Maine Cooperative Month
As you may be able to tell, Maine is one place where the co-op movement is really taking off. That's why we're excited to celebrate Maine's co-op community in this October, during Co-op Month. And we want you to celebrate it with us and the Cooperative Maine network.
"We are inviting you to celebrate National Co-op Month in October by holding events around this year's theme: Growing our Communities through Cooperatives! In the last decade, more and more people are starting cooperatives or converting existing businesses and housing into cooperatives, yet many people in Maine do not know the impact that we are having in growing strong communities and a democratic economy. Cooperative Maine has been helping to promote Co-op Month and coordinate activities around the state for the past 4 years. Co-op Month is an opportunity for cooperatives around the state and the nation to connect with their community, to share the work they are doing to build cooperatives and to celebrate the impact they are having on the economy and their community."
Read our full invitation here.
Resident Ownership Summer Bash in Maine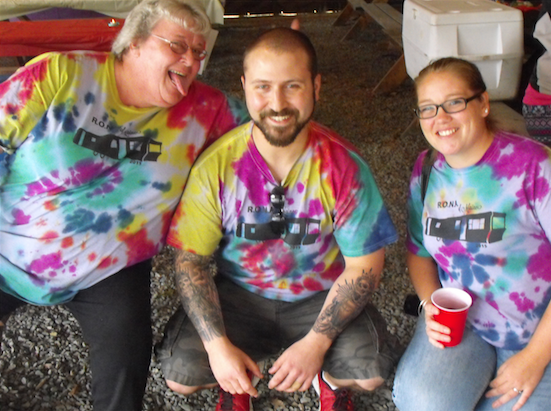 On July 18 the Resident Owned Neighborhood Association of Maine; also known as RONA, put on their first annual summer bash. This event was open to all residents living in a resident owned community in Maine, at no cost to them. There was free food, musical entertainment and multiple events throughout the day, as well as guest speakers. Andy Danforth, Director of CDI's NEROC Program, drove all the way from Massachusetts to celebrate with the residents and the Association.
Donate!
We're making serious strides in building the cooperative economy in New England. And with your help, we could make even more.  Visit our donate page to make a one time contribution. Or, if you'd like to become a regular supporter, please be in touch – we'd love to discuss this with you!
Newsletter: CDI Speaks before the UN and Wins the "People's Choice Award"