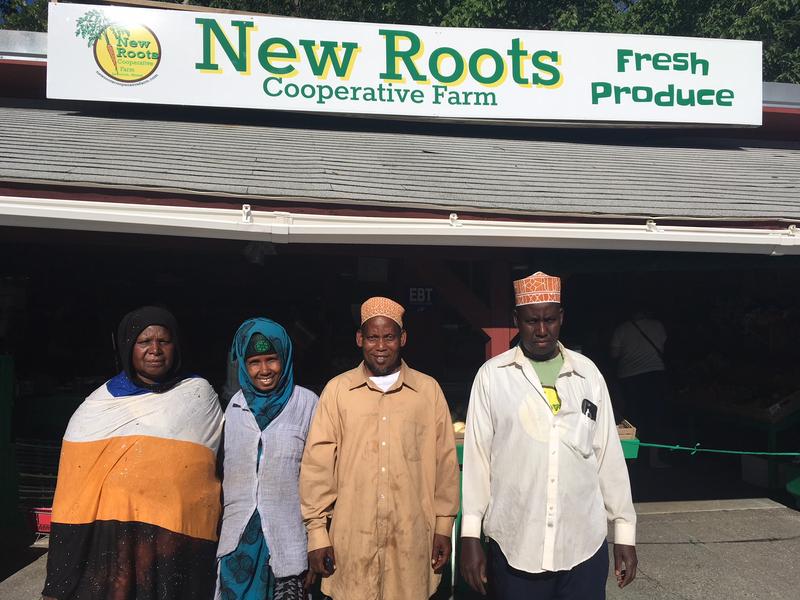 CDI's Cooperative Food Systems program helping to grow the local economy with New Americans in Lewiston, Maine, earns significant support from anonymous local donor!
CDI's Cooperative Food Systems program, led by Jonah Fertig-Burd and Omar Hassan, partnered with New American farmers to launch the first in the nation Somali Bantu Farm to Table food truck, and assisted with the grand opening of a local farm stand to increase retail sales of locally grown produce from New American farms. Excited by the work being accomplished by CDI's CFS staff and our New American partners, an anonymous donor has stepped up and pledged $75,000 over three years to support our CFS staff in continuing this important work. We are incredibly grateful!
Maine Public Coverage
First Somali Owned Farm Stand Opens in Lewiston
Bangor Daily News Coverage
New Food Truck Delivers Farm Fresh Somali Cuisine to Maine
CDI is committed to utilizing the cooperative development model to create sustainable, democratically owned and controlled businesses that are deeply rooted in local communities, resilient, and sustainable. Recently, Jonah Fertig-Burd and Omar Hassan along with CDI Subcontractor Mohamed Dekow helped to launch the Isuken Co-op earlier this summer, and thanks to a successful community based Kickstarter campaign that raised over $15,000 to purchase a food truck, Somali cuisine will be rolling down the streets of central Maine later this summer utilizing produce grown by local New American farmers. Last month, they assisted New American Farmers with opening a dormant farm stand that had once been a community hub for local produce in Lewiston, Maine. Both of these locally grounded projects could not have happened without the support of the local community though both the Kickstarter campaign and an individual donor. This support helped Isuken access a $30,000 loan that is compliant with Muslim finance laws from the Cooperative Fund of New England to purchase their truck.Together the local community has committed over $90,000 to support these entrepreneurial projects that will  support the local economy.
To deepen his understanding of how to support local economies, Jonah is currently engaged in a two-year fellowship with Business Alliance for Local Living Economies (BALLE). If you want to learn more about the importance of being a Localist, and the importance of investing locally, check out this article from the New York Times featuring Rodney Foxworth,  Executive Director at BALLE.
New York Times
Investing in Local Businesses to Get an Even Break
Localism Matters! Building Strong Resilient Local Economies