The Isuken Co-op Food Truck is ready for a successful launch with the support of CDI and Kickstarter backers!
The Isuken Co-op successfully raised funds to bring their unique farm to table food to the streets of Lewiston and events in Maine through a Kickstarter campaign. The campaign raised a significant amount of revenue for the group, surpassing their original goal to reach nearly $15,000 in support of the business launch. Over 200 donors contributed to the campaign which has made this dream a reality for the business owners.
Isuken will create delicious Somali Bantu dishes from their newly acquired food truck and are planning to make appearances at festivals and public events in the near future.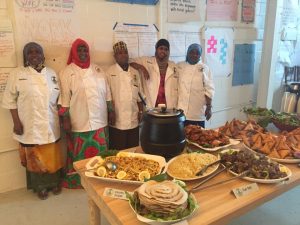 "Isuken means unity in our language and our goal with Isuken has united us," says Isnina Ibrahim, president and worker-owner of the cooperative. "We can do more together as a co-op, we can accomplish anything."
Students from Bates College just worked with Isuken Co-op to produce a short video about the cooperative and their goal of the food truck. The video was released on Facebook Tuesday. The video can be viewed on Facebook: https://bit.ly/2JbH6Vr
Isuken Co-op cultivates much of their food and has relationships with local growers and producers in the region. The Somali Bantu have traditionally farmed and fed their community and country, and are now growing and cooking for their American neighbors.
"We have our own food traditions that I want to share with a culture that has never tried it," says Isaac Garrow, worker-owner and Operations Manager for Isuken Co-op.
Isuken is a worker-owned cooperative with the six members sharing equally in the responsibilities and rewards of the business. This co-op structure is inspired by their traditional form of cooperation "Iskashito," where they farmed and worked together in Somalia. Isuken is the 2nd New American-owned cooperative in Maine.
"Growing our own food builds our capacity and connects people in our community together," says Mohamed Dekow, Executive Director of Sustainable Livelihoods Relief Organization, a community based non-profit that supports Isuken Co-op.
Isuken Co-op expects to open for business in July. They are planning a grand opening event in Lewiston that will celebrate their growth and introduce them to the wider community.
Isuken's Website: Www.isukencoop.com, www.facebook.com/isukencoop
The Isuken Co-op Food Truck is Ready for a Successful Launch