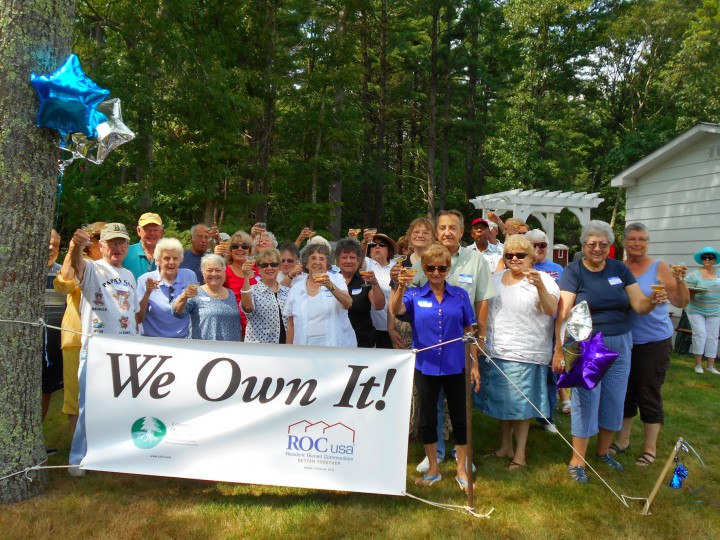 Twin Coach Estates Homeowners Association (Lakeville) and Edgeway Homeowner's Association (Middleborough) kicked off the month of August with a dual-community picnic. Toasting their achievements behind a "We Own It" banner, they congratulated one another on coming so far in such a short amount of time.
Edgeway and Twin Coach are the newest resident-owned communities (ROCs) in Massachusetts, aided in their simultaneous acquisition by CDI staff under the NEROC (New England Resident-Owned Communities) program. Funded by ROC USA, the communities completed a years-long process of working toward resident purchases on May 29, 2014, within hours of one another.
Although the two communities are in different towns, and are completely different entities, they share so much in common, that neither could have purchased their respective property without the other community's success in buying their own. The two communities are back to back, sharing not only a border, but a single entry and egress for a combined 106 residents and a single well.
Now that the purchase phase of their shared histories is over, they look forward to the next chapter of their lives: the communities are working together to bring in town water for both entities. Plagued with pitch-black water, Edgeway looks forward to this change without pause or hesitation. Twin Coach residents know that with the change to town water, the pressure they experience in their own piping will improve, they won't have to worry about the quality of their water and perhaps most importantly, they will have functioning hydrants. As of this past week, plans were being worked on by the engineering firm hired by both communities, plans that will bring in town water before the end of construction season.
The separate communities are preparing themselves well for a long future of responsible and accountable resident-ownership. Both boards of directors (and many residents!) have already completed the hallmark training for new groups: Boot Camp. This intensive training on ROC governance was met by eager residents, who took in all of the information presented and still asked for more.
As the communities grow, improve their assets and change, they will continue to work together to ensure mutual success, surely with many picnics to come.
-Maureen Carroll
Edgeway and Twin Coach: Two Resident-Owned Communities, One Spirit of Cooperation