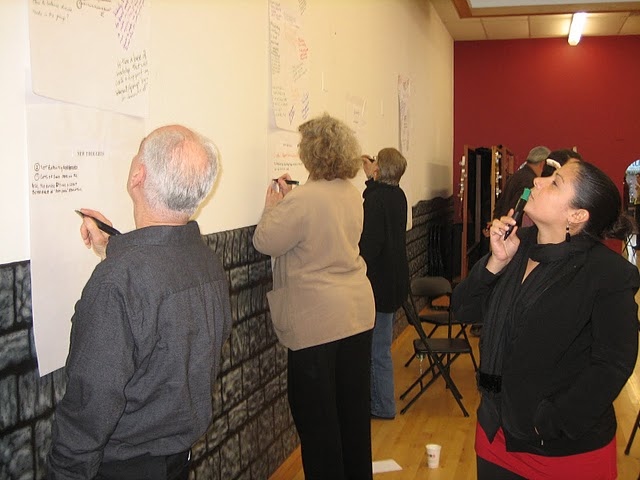 CDI believes that education about democratic enterprises such as cooperatives should itself be democratically organized. Our workshops rely on participants to express their needs and goals with respect to learning and apply lessons directly to their own situations. All of our facilitators are trained in the principles and methods of participatory, democratic education.
Workshops
We have prepared workshops that we can adapt to the particular needs of your group, including length of time; we can also design a new workshop in response to the needs of cooperators in our region.
Co-ops 101
There are a few different ways to define what a cooperative is, what it isn't, and what it should be, as well as different ways to categorize co-ops into different types. If after reading through our description of "What is a co-op" and viewing our generic presentation, your group wants to dig deeper into how the cooperative principles apply to the realities of your enterprise, you can have CDI run a long-distance webinar or an in-person workshop customized to your group's needs.
Other Workshops We Offer
Co-ops Seeding Co-ops
Training of Trainers and Mentors
Inclusion and Diversity / Anti-Oppression
The Tyranny of Structurelessness? Identifying, Addressing, and Dealing With Informal Power Dynamics in Cooperatives
"In human relations, the ends depend on the means, and the outcome depends on the process." -Dr. Haim Ginott
Knowledge Development
In line with Cooperative Principle Five, Education, Training, and Information, in addition to providing direct business assistance services and training, CDI makes significant investments in developing knowledge about and for cooperative development. We do research, gather resources, promote information-sharing in peer networks, and conduct evaluations of our work.
Research topics vary, from explorations of how co-ops can seed new co-ops to best practices for cooperative farming. Some of our published work, or publications we have contributed to, can be found on our Publications page.
This website is an example of how we gather resources for easier access. CDI is also one of the founders of Cultivate.coop, a collectively curated wiki of learning tools about cooperatives.
CDI is a contributor to and a great beneficiary of our peer networks, in particular Cooperation Works!, the professional network of cooperative developers. We also started and moderate the peer discussion group NEFME, New England Farmers' Market Exchange.
We are always on the lookout on how to advance not just the amount of information, but the quality of knowledge among co-operators.