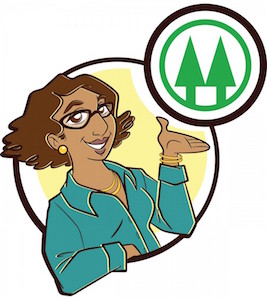 Meet Cathy, the Cooperative Development Institute's new answerwoman! She can take on any co-op questions you might have, big or small. Today we address the question: "Are there examples of cooperatively organized tree care companies? We are thinking about starting one in Newark and would love to learn from existing examples." See all of Cathy's answers and ask your own on her home page. This blog post was written by Noemi Giszpenc, CDI's executive director.
At first glance, I was only able to find a couple of companies that represent cooperation among small independent businesses: the Pacific Slope Tree Cooperative and the Bay Area Arborist Cooperative. In these cases each company or crew is privately owned, but the businesses market together and share back-office services.
There existed a worker-owned tree-planting cooperative called Hoedads from the 1970s to mid-1990s.
Lewis Tree Service is a 100% employee-owned ESOP in West Henrietta, NY. (For an explanation of the differences between a worker-owned co-op and an ESOP, please read our very first Ask Co-op Cathy!)
There is a mini-trend in landscaping/gardening worker co-ops. A few of these (some of which were conversions from existing privately owned businesses) include:
There are also a number of nonprofit owned or driven tree care enterprises, such as D.C. Greenworks.
If you would like more guidance on incubating a worker-owned tree care company, please contact us! And if you still have questions, Co-op Cathy is here to answer them.
---
Ask Co-op Cathy a Question
These Co-ops Go Out on a Limb